Take Our Minority Business Development Questionnaire
The information gathered will provide a comprehensive image of the Arab American business presence in the US.
ADCRI Anthony Shadid Internship Program
Since 1981, over 500 students have participated in the Anthony Shadid Internship Program of the ADC Research Institute (ADCRI). Students from all over the country and the globe come to the ADC national office in Washington, D.C. each year to gain first-hand experience in non-profit work.
The Anthony Shadid Internship Program offers positions in a variety of departments so that students of all disciplines can benefit. The program educates students on issues of civil rights, Arab-American heritage, and current events in the Middle East. Students get practical training in case-handling, media relations, research, legal and media writing, educational outreach, community organizing, and office administration alongside our national office staff.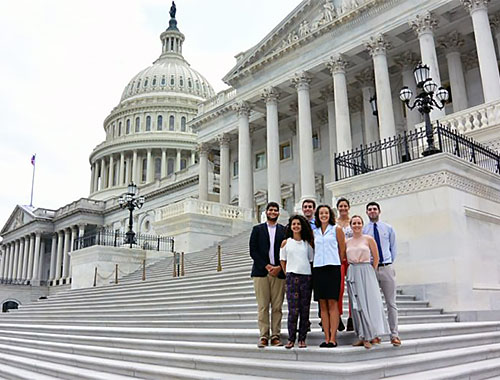 About the Internship
During the 10-week duration of the internship program, ADC interns get several opportunities to visit government and congressional offices, embassies, and other cornerstone organizations in Washington, D.C. These experiences introduce ADC interns to policy-making institutions in the D.C. area. ADC interns will also have opportunities to attend speeches, film screenings, conferences, exhibits, and cultural programs in D.C. which address world issues. Each year at the end of their program, ADC interns write and publish Intern Perspectives, in which they reflect on their experiences at ADC and the issues on which they focused.
Click here to view the "Intern Perspectives" from past years.
While the program is primarily oriented to Arab-American students, we encourage students of all ethnic backgrounds to apply. International students are eligible for the intern program, but must acquire U.S. visas that authorize employment in the U.S. if accepted. ADC cannot make these arrangements. They may be available through university programs or organizations such as the Council on International Educational Exchange (www.ciee.org). For more resources on attaining visas for internships, please call us at (202) 244-2990 during regular office hours or send an e-mail to [email protected].
Qualifications
Candidates must have completed at least one (1) year of college. Undergraduates, recent graduates, graduate students, and law students are all eligible for the Anthony Shadid Internship Program.
ADC membership is recommended. Student memberships are available at discounted rates.
Summer Program & Semester Internships
During the summer, up to 15 internships are available at the national office. The 10-week internships are full-time positions. We ask interns to start as soon as possible after their semester ends/starts.
Volunteer positions for course credit are available during the academic year and are arranged on a case-by-case basis.
Types of Internships
ADC is the country's largest national Arab-American civil rights organization. ADC has defended the Arab-American community for 39 years against defamation, discrimination, racism, and stereotyping. ADC offers pro-bono legal counseling through its Legal Department.
Qualifications
Applicants must have completed at least one (1) year of law school. Rising 2Ls and 3Ls are eligible.
Duties
Conducting client intake: Legal associates are responsible for conducting the legal intake when people report an incident to ADC over the phone or online. They also conduct phone interviews with clients to help determine the facts and legal matters of each case.
Casework: Legal associates are responsible for their own cases under the direct supervision of the ADC attorneys. Cases can involve employment discrimination, airline discrimination, educational discrimination, hate crimes, immigration, and freedom of speech.
Amicus Briefs: Legal associates assist with the research and writing of ADC amicus briefs in high profile cases, including cases before the Supreme Court of the United States.
Policy Work: Legal associates draft policy memos and letters to federal agencies. They also have opportunities to represent the ADC at various meetings and conferences with civil and human rights organizations and federal agencies. In addition, legal associates are strongly encouraged to attend hearings and write articles related to the issues that ADC handles.
Preferred Coursework/Experience
Constitutional law or seminar, immigration law, international law, human and civil rights, legislative law, clinical law
ADC is looking for an intern to work in media and communications. This internship provides valuable and substantive experience in communications, journalism, public relations, and online publishing.
Qualifications
Energetic individuals who have a sense of how the media works and are committed to challenging stereotypes of
Arabs and Arab Americans
Solid writing skills
Good organizational skills
Mass Communications majors preferred, but not required
Experience writing for publication
Preference given to graduate students, seniors and juniors
Proficiency in Microsoft Office, Adobe Photoshop and Indesign; basic knowledge of HTML
Duties
Drafting and proofreading: press releases, updates, action alerts, and letters.
Manage and track: social media to support ADC's campaigns and advocacy efforts.
Monitor news coverage of: Arab and Arab American issues
Write articles and take photographs for the ADC E-Times
Assist in drafting letters to the editor in response to biased press coverage.
Research: topical issues and draft talking points, articles, blogs, etc.
Build and update: media contact lists
Respond to: public and media information requests
Act as editor of: the ADC Intern Perspectives, a newsletter reflecting on the personal side of the summer intern experience
ADC's Organizing Department is looking for one or two interns. The internship provides valuable and substantive experience in grassroots community organizing, political action, and general office procedures.
Qualifications
Interest in grassroots organizing
Highly motivated, energetic, and creative
Must enjoy working with other people
Experience in community and/or campus organizing
Good communication skills, both written and oral
Proficiency in Microsoft Word and Excel
Duties
Assist the Vice President with: work involving the national network of local chapters
Work closely with: ADC chapters and compile reports on their activities
Assist in: mailings and respond to member inquiries and requests
Data entry to: track organizing and outreach efforts
Developing and/or editing: outreach materials as necessary
Help: plan, develop, and participate in organization's events both locally and nationally
Government Relations Intern
ADC's Legal Department is looking for one or two interns. The internship provides valuable and substantive experience in policy advocacy, political action, and general legislative procedures.
Qualifications
Basic knowledge of congressional politics
Highly motivated, energetic, and creative
Must enjoy working with other people
Interest in public policy
Good communication skills, both written and oral
Proficiency in Microsoft Word
Duties
Work with: legal department on policy issues
Conduct: legislative tracking and congressional tracking
Attend: hearings on the Hill
Develop and edit: policy briefs